One of the most frustrating things on a language learning journey can be the feeling that you should be able to understand more spoken language than you do.
Unfortunately, it's one of those skills that simply takes time.
I learned this the hard way with Italian. I felt stuck listening to very-low-beginner audio and understanding 100% of it, because as soon as I jumped to more difficult audio I only understood 20% of it. I thought boring memorization was the only way to improve.
However, I didn't need more vocabulary or grammar, necessarily… I needed more hours every week (really, every day) listening to native Italians talking at normal speeds.
TIP: If you aren't interested in the content… Move on to another podcast. This is just like intensive vs. extensive reading – to get the biggest benefit, extensively listen to things you actually enjoy!
So, here are some general podcasts for English listening practice!
7 Podcast Recommendations for Listening Practice
(1) Armchair Expert with Dax Shepherd
Dax Shepherd is an actor (and husband to one of my favorite actors, Kristen Bell!) who loves talking to people. He loves it so much, he started an interview podcast.
The questions focus on challenges in the lives of the interviewees, and how they handled those challenges.
One of my favorite parts of this podcast is the fact check segment. After the interview is over, Dax's co-host discusses her research into different things mentioned during the interview and whether or not they are true.
My Favorite Episodes: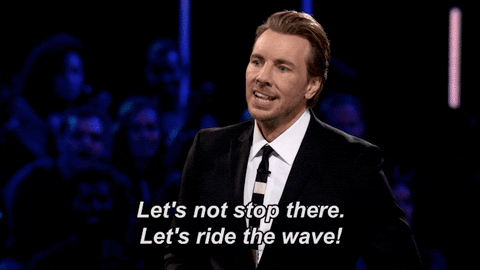 (2) Stuff You Should Know
This extremely popular podcast covers almost every subject imaginable. There is a new Stuff You Should Know episode every Tuesday, Thursday, and Saturday with the two hosts, Josh Clark and Chuck Bryant.
You'll never run out of entertaining material – you can find both hour-long episodes and shorter 15- to 20-minute episodes.
My Favorite Recent Episodes:
(3) NPR Pop Culture Happy Hour
If you're interested in pop (or popular) American culture, this is definitely a podcast for you! Pop Culture Happy Hour covers movies, books, TV, and much of the entertaining content Americans are talking about with each other and online.
As the title shows, the podcast is run by NPR, which is National Public Radio. It is a non-profit media organization that is known for being a reliable source of news and entertaining yet informational content.
My Favorite Episodes:
TIP: If you want to understand more casual cultural references in conversation, these podcasts are a great place to start!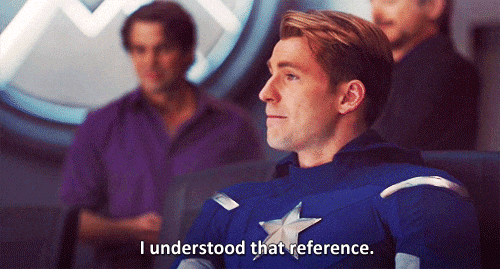 (4) Binge Mode
American Pop Culture, and the recent habit of the younger generations binge-watching TV shows, is what inspired Binge Mode.
You'll hear the hosts, Mallory Rubin and Jason Concepcion, talk about comics, TV, movies, books, and video games. They have entire seasons with deep dives into major franchises, including Harry Potter, Game of Thrones, and Star Wars.
This popular podcast also occasionally brings famous guests on to talk about their projects.
My Favorite Episodes:
(5) David Tennant Does a Podcast With…
If you've been listening to mostly American voices, and you're ready to branch out, one of my absolute favorite podcasts is David Tennant Does a Podcast With…
I, like many Americans, first saw David Tennant in both Doctor Who and Harry Potter (as Barty Crouch, Jr.). Recently, he has been in the casts of Good Omens, Broadchurch, and Jessica Jones.
His natural accent is Scottish, but many of his roles are played with an English accent. This podcast is focused purely on David Tennant interviewing famous actors, writers, comedians, and even politicians. This is perfect conversation listening practice! And the sound quality is lovely.
My Favorite Episodes (besides All Of Them):
(6) The Fluent Show
The Fluent Show is hosted by Kerstin Cable and Lindsay Williams, two well-known names in the online language learning community!
I've been listening for several years now and always find something valuable when I listen. This is another podcast with some different accents! (I just love listening to diverse accents, which is one of the reasons – besides language learning – that I started listening to The Fluent Show.)
They have resource recommendations, interesting guest interviews, study tips, and entertaining other topics.
My Recent Favorite Episodes:
(7) Chenelle's Language Learning Journey Podcast
I've seen Chenelle in several of the language learning Facebook groups I've joined and I'm inspired by her consistency in learning!
I enjoy listening to Chenelle's Language Learning Journey to learn about how she and other learners stay motivated in their studies while avoiding burnout. (Hint: Know your why!)
She talks about her own journey of learning languages the visually impaired way. It includes reviews of different courses and tools, interviews with polyglots, and other relevant or newsworthy language topics.
My Favorite Episodes:
Tell me in the comments below: What is your favorite podcast?